The Yellowstone National Park is one of the bigger National Parks in the U.S, which everyone wants to visit. I've been dreamt about visiting it since my childhood. Last year it finally happened! I was standing in the Yellowstone – in front of all the great attractions. However, I underestimated quite a few things. So I decided to share with you a couple of things you should know before visiting Yellowstone National Park.
1. Size of the Yellowstone National Park
The Yellowstone is not a one-day itinerary.
Everyone knows that it is big, but yet I underestimated its size quite a bit. We drove all the way from the East of the U.S. to Yellowstone and I might have gotten a little easy with distances.
If you want to explore the Yellowstone National Park, you need a few days for sure. We have stayed there for 4 nights and still haven't seen a lot. Well, we have seen a lot, but we couldn't do a lot of hiking.
If you only want to see the Old Faithful and the Grand Prismatic, you'll be good for a day, though.
The park has a major circle route. We spent one day alone doing the South-West because there are so many stops and areas to explore. We kinda neglected the North and East, which I regret a little.
Heading North afterward? Read about Glacier National Park here!
2. The smell of the National Park
Another thing I underestimated was the smell of rotten eggs.
You probably gonna think: "She's just too sensitive." Maybe you're right but, seriously, sometimes I wish those picturesque photos would deliver the smell as well. I never expected that it could be that smelly. But that's just me. I could have thought of it before. I mean it's all located on a volcano…
Anyways, after a few days of continuous rotten eggs smell I got sick of it and was happy that we went on the trails for the Upper and Lower Falls, as well as Grand Teton.
3. Choice of campground
It's definitely beneficial to spend the few extra dollars by sleeping on a campground inside the Yellowstone. We picked one outside and had to drive 60 miles every morning to reach Yellowstone (plus driving inside).
Although the view from our campsite and the tranquility was peaceful, it wasn't worth the time and gas. The gas prices are outrageous because it's "Yellowstone" and you have to get up super early to not get stuck in a traffic jam.
Click the button below to load the video from YouTube.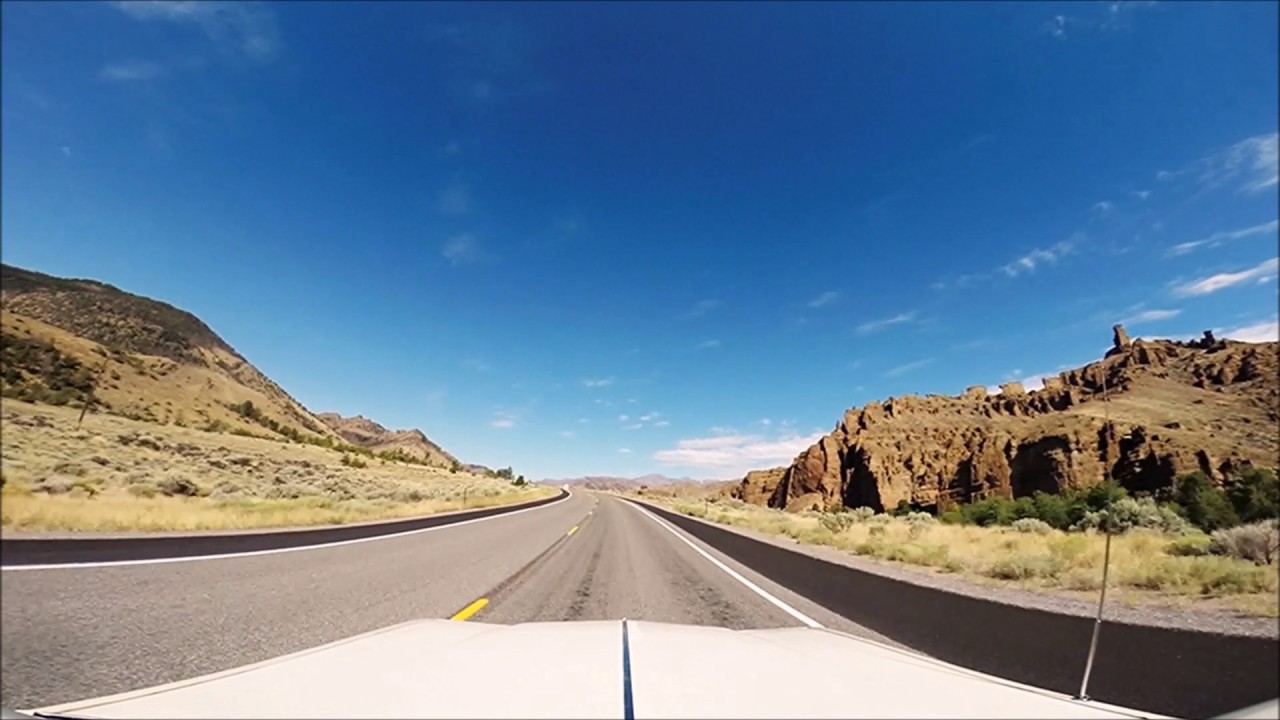 Load Video
4. Reservations for campgrounds
In the summertime, you should definitely reserve a camping spot or come very early.
We had no other choice than sleeping outside the Yellowstone National Park because all campgrounds were full. Yellowstone is not really made for flexible, unorganized road trippers like us.
There are 12 campgrounds for reservations and 7 for first-come, first-serve. However, in summer you'll be lucky if you get a spot on a first-come, first-serve campground.
5. Crowdedness
The uniqueness of the Yellowstone National Park draws around 4 million visits each year. July is the month of the most visits: 900,000.
So if you plan to do your trip at that time, you will need a lot of patience and good nerves. Traffic jam, slow walks at attractions, waiting times and finding a parking spot can be grating.
6. The fight with the selfie sticks
Where tourist crowds are, there are selfie sticks as well.
I never really care about them, but I do on a 5-feet wide wooden path, which is surrounded by boiling acid water.
Some people can be unmindful with these long things and hit you into the sides because they are getting ready to take a selfie. We had this problem quite often. It's already difficult to walk the crowded paths, but the selfie sticks add more obstacles than you believe. Sometimes I felt like I was in a parkour or jump 'n' run game, where you have to move to the left, right, jump or duck so that you are not getting hit or overcome obstacles.
So do everyone a favor and leave your selfie stick at home, if you visit the Yellowstone in the summer months.
7. Leave your hat at home or tie it to your head
If we are already talking about things, that you should keep at home, leave your hat at home.
It can be windy sometimes, so sun hats like to fly away quickly.
In Yellowstone, you can't just chase your hat, because of the wooden paths and you cannot leave them. Your hat will land in nature. So basically it's a lose-lose situation: You lost your hat and littered in nature. Great job.
So please, leave your hat at home or tie it to your head.
8. Old Faithful isn't all that great
Okay, so let me tell you something: The Old Faithful is lame compared to the other geysers like the Castle. The only good part is that the Old Faithful is pretty predictable. The pictures below will show you, why I believe the others are better.
9. Spotting bears is not as easy as you think it is
Yellowstone National Park is inhabited by many animals, like deer, bears, and wolves.
If "Spotting a bear" is on your to-do list for the Yellowstone, you shouldn't be sad if it never happens. We saw a tiny part of a bear from far away and that's it. I always held my eyes open, observed everything, but I couldn't get a closer look.
10. Hearing bears and mountain lions is easy, though
However, hearing bears or other animals such as mountain lions is not as difficult though. We have been hearing mountain lions from our tent at night.
In addition, we've heard bears multiple times around our campsites. It's actually more creepy because it's hard to tell how far away the animal is.
Heading East afterward? Read about Custer State Park here!
11. Don't miss on Grand Teton
If you want to enjoy some silence, visit the Grand Teton as well. It's a beautiful place and it felt like it was almost like we were alone – compared to Yellowstone. The scenery is stunning, so you won't regret it. The good part is that it's just South of Yellowstone. It's definitely not far at all.
Quick Info & Links
Where: North-West of Wyoming
Entrance fee: $30 per car or $50 for Yellowstone & Grand Teton (valid 7 days), motorcycles $25 or $40
Yellowstone National Park – official website
Costs for camping inside the National Park: $15 to $47
Camping outside the national park: Valley View RV Park & Campground ($10 per tent)