The little fishing village in the North-East of Bali is great fun for people, who love the ocean and less touristy places! Amed is a playground for divers, snorkelers and ocean lovers! Besides this, there are some other activities in Amed as well, that will make your stay unique!
Although tourism has reached this village step by step, it is still a nice escape from the chaotic tourism in Kuta. We have been there in 2015 and 2016. I was surprised, how quick the village developed within that year. They got more ATM's, an Indomaret, even more dive shops, Warungs (local restaurants) and a coffee shop. The last time we were there, it was low season. So it was very calm throughout the whole village. Locals told me though, that it is way more crowded in high season, which is in the summer months (or Australia's winter months). It is still not comparable to Kuta – so don't worry!
You are probably asking yourself, what this small fishing village in the North-East has to offer so that a drive up there is worth the time. So here is my collection of the best activities in Amed for you!
1. Day & night swimming
When you check online for accommodations, you will often see that you will be close to or right at the beach. We actually found a place for 200,000 IDR ($15), which was right at the beach. The rooms were not as great, but the benefit of walking 30ft from our room door to the water overweighed. So our daily routine looked like this: wake-up, swimming, breakfast, swimming, iced lemon tea, snorkeling, lunch, swimming, relax, iced lemon tea, swimming, relax, swimming, dinner, swimming, bedtime. But bring yourself a pair of reef shoes, because all beaches are rocky! The water in Amed is pretty warm year-round, whereas the South of Bali has cold water in summer.
However, the best part was to swim at night time. You have to try it! When it is dark outside you will see little "diamonds" in the water! The fluorescent plankton will just blow your mind! You just have to move your arms underwater and you will see it. We could have spent hours in the water and moving the water to see the "diamonds". In addition, we also had the clear night sky over our heads. So we had diamonds in the sky and diamonds in the water!
2. Snorkeling
Amed also has some pretty great snorkeling areas. You will find them everywhere along the coast. You can see uncountable, colorful fish, sea turtles, all types of corals and some interesting fish like the lionfish and scorpion fish. The Jemeluk beach is one of the most popular points as it has a sunken mailbox in the bay.
At this point I also have to get a little educational here: Do not touch or step on corals! They die! Hence, other people may not have the opportunity to enjoy their beauty! So be a nice person and treat marine life properly by just looking at it and being careful! Watch out for your belongings (trash) and where you move your fins!
3. Diving
In 2015 I made my Advanced Open Water certification in Amed. I had a lot of fun with the team of Euro Dive. They have great staff and amazing teachers, which talk a lot of different languages (French, English, German, and Indonesian). So if you want to learn how to dive – this is the place to go! Around Amed are many different dive sites, especially the USS Liberty Wreck is an interesting dive site because there are many corals and you can also dive through some holes in the wreck. It's breathtaking (I did 3 dives there and weren't bored at all!).
If the dive shop is too far outside the village for you, I can also recommend Amed Fun Divers. The staff also speaks all main languages and is very friendly, patient and well-trained!
If you are not a certified diver yet, give it a try! Amed is a great spot to learn diving or making an introduction course! If you need a little more motivation, watch this video:
Click the button below to load the video from YouTube.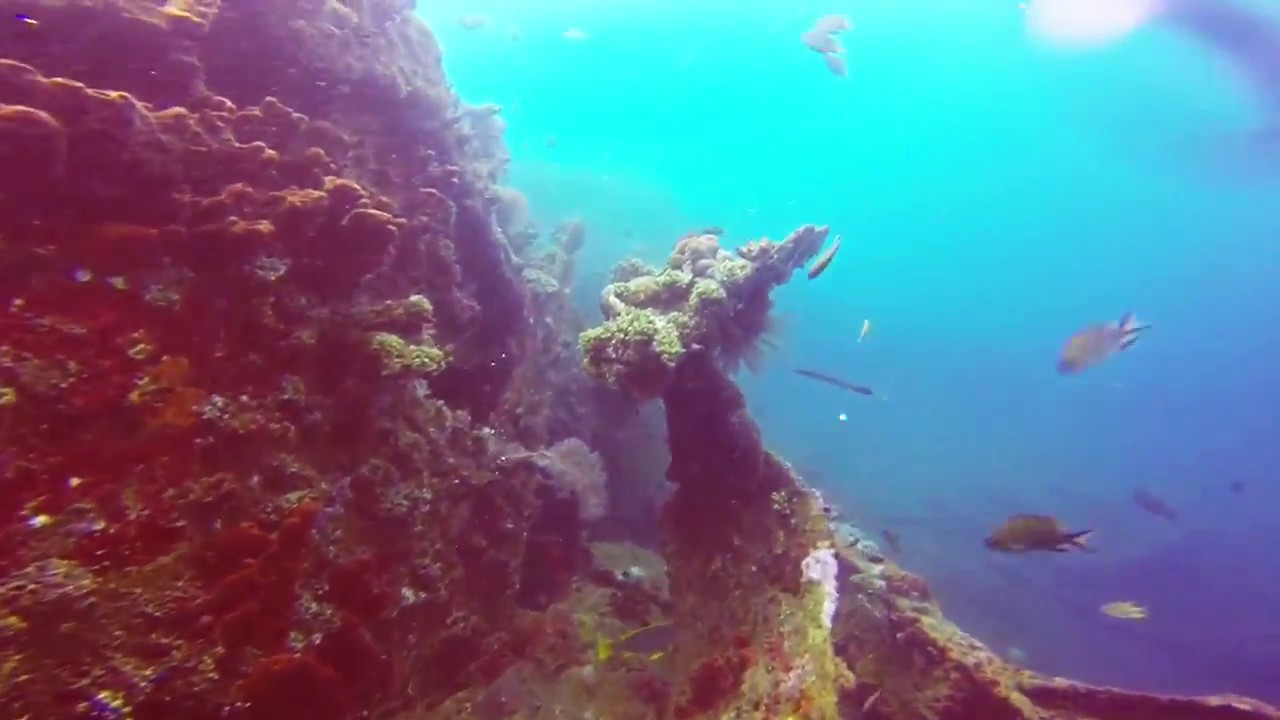 Load Video
4. Fishing
As I said Amed is a fisher village. So you obviously can go fishing. Local people will take you out in the morning. Costs are around 150,000 IDR ($10) per person. Mostly your homestay or hotel can arrange this for you as they mostly go fishing every day for cooking. It starts before sunrise though, so shouldn't be afraid of darkness and the local boats! On the trip, you can gaze at the diamonds again! 😉
5. Renting kayaks and stand-up paddle boards
The bays in Amed are pretty calm. The perfect condition for renting kayaks and stand-up paddle boards. You can rent them almost everywhere for around 100,000 IDR per day.
6. Renting Mopeds (motorbikes)
Let's get out of the water for other activities in Amed. The best way to get around in Amed is a Moped because the village stretches along the coast for a couple of miles. You can mostly get them from your homestay or everywhere down the street. It's around 50,000 – 60,000 IDR per day ($4).
Read my guide about renting a moped on Bali!
7. Day trip to the volcano
With the moped, you can explore the coast and also drive up to the last active volcano of Bali – Gunung Batur. It's a great day trip! There is a water temple, a huge lake, and the restaurants on the Jalan Raya Penelokan offer amazing views for your lunch break!
8. Enjoy the tasty food and drinks in the Warungs
Amed offers great views too though! There are plenty of Warungs that serve their drinks with ocean view. Some are even facing Mount Agung, which is the perfect view for sunset! The food is very cheap in comparison to Kuta, but also very good, and even the European influences made it to Amed. And let's be honest: Isn't an iced lemon tea three times better in a cozy chair with view on the ocean?!
9. Bars and live music
If you feel like listening to music and shaking your booty a bit, give the Pacha Raggae Bar a try. We went there one night and had a lot of fun! We got to know some locals, who were simply amazing! The Pacha is just one of the bars with live music. When you walk down the road, you will see all the signs.
So there are definitely plenty of activities in Amed that can make your stay unique.
Tips for activities in Amed
As Amed is along the ocean, all activities in Amed are mainly based on water sports.
If you are sick of the rocky beaches, you can also lay on the pools. Some hotels and homestays offer pools. You only have to pay a little amount or purchase a drink.
Homestays can mostly arrange good deals for you or even offer activities. That's why I can't stress it too much: Stay in a homestay! It is smaller and like staying with a family. We never had bad experiences and always got super good deals for activities. They also care a lot more about your wellbeing. I would never choose a hotel over a homestay, if I had the choice! You also get to know more about the culture, if you are interested in this. Sometimes it is good to speak some words in Balinese or Indonesian though, because lots of people in Amed don't speak English. BUT you still have your hands to communicate with gestures – works 8 out of 10 times. 😉